Remember ol' Michigan J. Frog??? Well he is the star of the 1955 classic cartoon "One Froggy Evening" and I thought it was time for it to make a come back!
"One Froggy Evening" is an approximately seven-minute long Technicolor animated short film written by Michael Maltese and directed by Chuck Jones. The short was released on December 31, 1955 as part of Warner Brothers' Merrie Melodies series of cartoons. This cartoon also celebrates New Year's 1956 since it was made on December 31.

Some critics and observers regard this cartoon short as the finest ever made. Steven Spielberg, in the PBS Chuck Jones biography Extremes & Inbetweens: A Life In Animation, called One Froggy Evening "the Citizen Kane of animated film". In 1994 it was voted #5 of the 50 Greatest Cartoons of all time by members of the animation field. The film is at IMDb currently ranked as the second best short movie ever. In 2003 the United States Library of Congress deemed the film "culturally significant" and selected it for preservation in the National Film Registry.
Froggy Facts?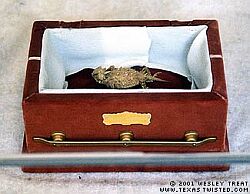 Some believe that the story of this frog was at least partly inspired by a real critter. In Eastland, Texas they tell the story of one horned toad named Old Rip. He was placed in the cornerstone of the courthouse there in 1897. In 1928 the courthouse was demolished and the story is that they pulled Old Rip out and he was still alive. He did not get up and dance however. Eleven months later Old Rip finally croaked and the citizens made him a fancy velvet-lined casket and put him on permanent display - where you can still see him today.